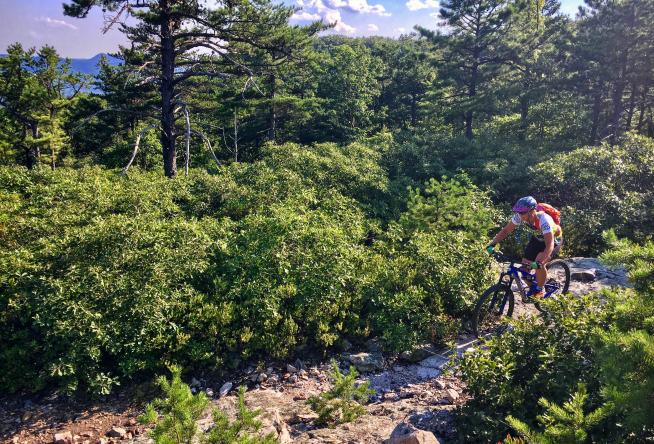 Virginia's Blue Ridge is an incredible destination for those who love to rip a trail on a mountain bike. No joke!
We scoured popular mountain biking websites to unearth those that are considered to be the top 10 trail systems for epic mountain biking in Virginia's Blue Ridge.
1. Carvins Cove | Roanoke
Just 10 miles from downtown Roanoke, Carvins Cove Natural Reserve is a 12,500-acre paradise for those who love the outdoors. Aside from the Appalachian Trail access and the 630-acre glistening reservoir for paddlers are the rad trails. Five in particular have risen to the top as tough but loved.
– The Gauntlet is a two-mile, 1,000-foot downhill toward the reservoir. Or if you have legs of steel, a mighty 1,000-foot ascent toward Hi-Dee-Hoe.
– Hi-Dee-Hoe is a switchback lover's delight at 1.5 miles of ups, downs, and spin-arounds. Pick it up off The Gauntlet or straight off the Bennett Springs parking lot.
– Rattlin' Run is also accessed from Bennett Springs parking lot and is one of the toughest trails in the Reserve. At 2.28 miles, it leads to Songbird, an easier trail in comparison.
– Songbird is possibly the fastest trail in the Reserve and is nearly two miles long. It's not as much of a switchback, leg-killer as Hi-Dee-Hoe but we think you'll enjoy it.
– OG is a tremendous downhill trail that's known for having the best jumps at the Cove. It's only 1/2 mile long, but is a must-ride for those wanting to experience the best of this challenging trail system.
You can also check out The Gamut – a 2-stage route that provides the opportunity to ride every trail at the Cove.
"A fun technical ride with long fire road climbs and steep, technical downhill sections"
2. Mill Mountain Full Pull | Roanoke
Mill Mountain is a "must visit" for anyone coming to Roanoke for any reason. It's where you'll find our iconic Roanoke Star and Mill Mountain Zoo. It's also a pretty great trail system that's open to mountain bikes. Oh, and it's within the Roanoke City limits.
The Full Pull is the entirety of the trail system, starting and ending at UnderDog Bikes at the base of the mountain. Expect to cover 13.5 miles and tackle more than 2,100 feet of elevation. Fun times with lots of climbs!
"Mill Mtn is my go-to place to ride. This flowy route is great because you get to ride all of it!"