Sedona is a well-known hot spot for mountain biking. It doesn't matter if you are a beginner or hardcore mountain biker, you can find what you're looking for here in the red rock landscape. With astounding scenery from almost every trail, year-round riding, and rides for all abilities, it's hard to imagine a better destination for this sport.
Beginners might want to start out on Bell Rock to get warmed up, then move on to Long Canyon and Deadman's Flat. When you are ready to advance to a more intermediate trail, consider trails like Aerie, Chuckwagon, or even Llama. Trails like Templeton and Mescal offer a little more challenge for intermediates and run along exposed areas with cliffs. More advanced bikers can look to trails like Slim Shady and Hiline for more challenging terrain. Deciding which are the best trails is no easy feat; what appeals to beginners is not what advanced riders may be looking for. Find what suits you with our list of the top mountain biking trails in Sedona.
1 Aerie to Cockscomb Loop Trail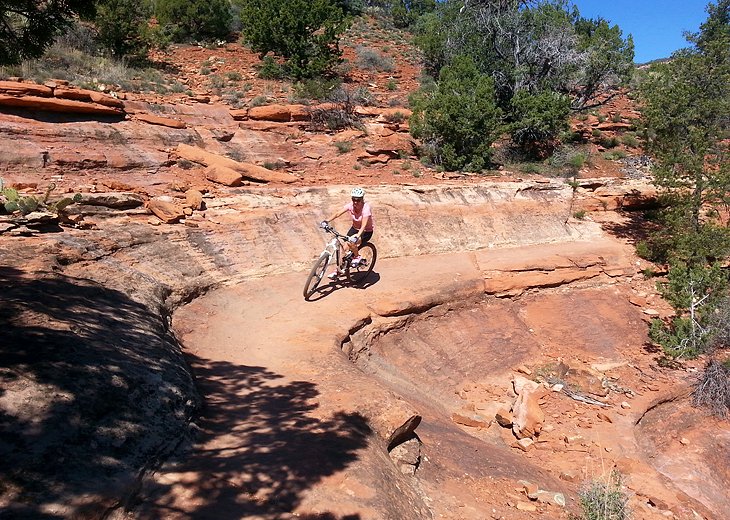 Perhaps the best overall trail in Sedona for intermediate level mountain bikers, with a good combination of fun rolling hills, great descents, and beautiful scenery, is the Aerie Trail combined with the Cockscomb Trail. This is a 6.1-mile intermediate level route, but beginners who have done a few of the easier trails can try tackling this one when they feel they're ready to advance. Although this same statement can be made about most trails around Sedona, the scenery is outstanding.
You can start from a couple of different locations but the best option is parking at the Boynton Canyon Trailhead. From here, the trail is actually a lollipop, but the first section is fun, and you end up skipping this part if you start from the Aerie Trailhead and just do a loop. From the Boynton Canyon Trailhead, you'll soon find yourself on a fun, curving, and swooping track, before joining up with the main loop. When you join the loop trail, go in a counter-clockwise direction, which will take you up and around Doe Mountain, and then down some fun descents.
For a shorter and easier alternate loop from the Boynton Canyon Trailhead, take Aerie to Cockscomb, to Dawa, and then hop on the Boynton Pass Road for a short distance at the end to form a complete loop back to your vehicle at the trailhead. This loop is about three miles.
2 Mescal Trail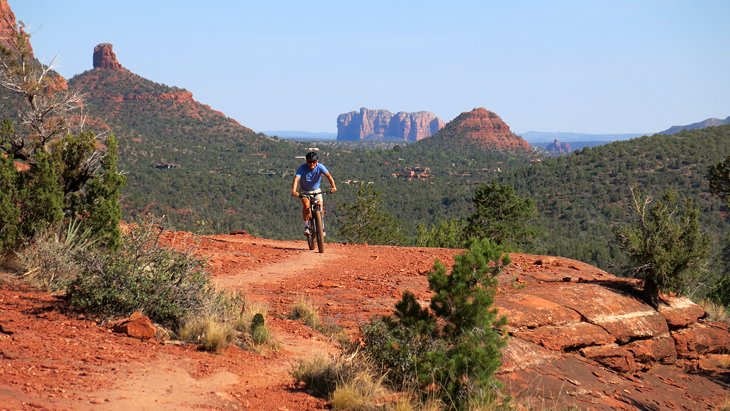 The Mescal Trail, rated as blue square, or moderate, is a great trail to hone your mountain biking skills. This two-mile route combines challenging terrain, stunning scenery, and great slickrock riding. This trail is not for beginners, but strong intermediates will find it a true test of their abilities. A section of the trail on the skirt of Mescal Mountain has some amazing slickrock, and the views out to Courthouse Butte in the distance are spectacular. The trail can be done as an out-and-back from the trailhead off Long Canyon Road, or it can be part of a flowy and fun run by combining the easier Long Canyon and Deadman's Pass Trails. If you do the loop by starting on Long Canyon and Deadman's Pass, the ascent from Deadman's Pass to Mescal can be challenging, but don't be dissuaded, it evens out fairly quickly, and you can always walk your bike up the tough spots.